Who are we?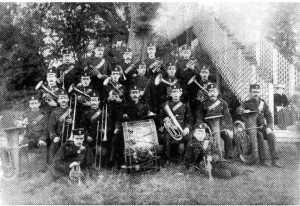 Langley Band is one of the oldest brass bands in the Midlands and we were founded in 1878. The band has around 28 musicians, mainly from the Midlands region, led by our Musical Director Cliff Parker who has directed the band since 2002.
We are proud of our heritage and with good reason. Since the very beginning we have enjoyed many successes and always maintained our headquarters in Langley, at the heart of the industrial area commonly known as 'The Black Country', and never more than a few yards from the first rehearsal room!
We are a self-supporting band, relying solely on the proceeds from concert fees, recordings, donations and members' subscriptions. The membership is made up from a diverse range of people including school pupils, students, teachers, engineers, police officers, doctors, accountants and civil servants. The players give up their own time for engagements and the twice weekly rehearsals.
What we do…
We have built up an enviable reputation for providing quality musical entertainment and are kept busy entertaining audiences throughout the year, performing an average of 25 concerts at a wide range of locations. These are mainly in and around the area closest to the bands' heart – the Black Country and West Midlands. We have also performed overseas in Frankfurt, Germany and in Noordervijk, Belgium.
We host an increasingly popular concert series at the Barlow Theatre, Langley and continue to entertain young and old alike with our varied mix of music and humour.  Over the years Langley Band have broadcast on both national and local radio many times, including the BBC's "Listen to the Band" and appeared on TV. We have also made numerous recordings through its long history on LP, Cassette and CD.
Where are we…
Langley is a small town based in the heart of the West Midlands within the borough of Sandwell, close to the towns of Oldbury, West Bromwich, Wednesbury and Dudley. The bandroom is located a short distance from Langley Green Train Station which has excellent links to the city of Birmingham. It is a short drive from junction 2 of the M5.
Details on how to get in touch with Langley Band.